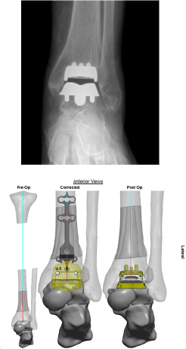 The Surgery Center at Jensen Beach is excited to offer Comprehensive Foot & Ankle surgical services to the community. Our surgical team is committed to new and updated surgical services related to many foot and ankle problems. We now offer top quality foot and ankle reconstructive care for both complex and routine issues requiring surgery. Like many orthopedic surgeries, outpatient foot and ankle surgery has been shown to provide excellent results with early return to activity. The Surgery Center at Jensen Beach has optimized our facility to offer these services. Don't suffer, contact our foot and ankle surgeon for a consultation today.
Services:
Fasciitis, Bunion & Hammertoe Correction
Anthroscopy, Tendinitis & Sports Medicine
Minimally Invasive Techniques
Flat Feet & High Arched Feet
Foot & Ankle Trauma
Adult & Pediatric Foot Conditions
Arthritis with Total Ankle Joint Replacement
Deformity Correction
Don't delay getting the care you need. Your safe care is our priority.
Participating Physician: